Potato Dumplings with Goat's Cream Cheese
Creamy goat's cream cheese, coated in a thin potato dough. The bed of blue cabbage and the roasted walnuts round it all off.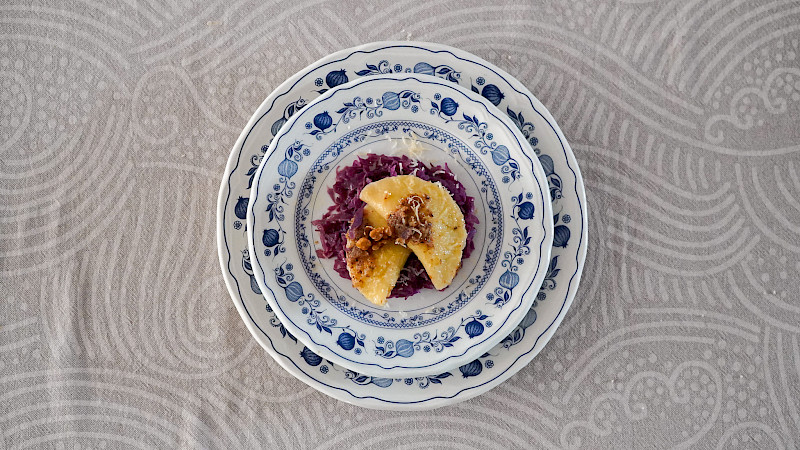 cook time

1h

total time

1h
Instructions
Peel and chop the potatoes and cook in boiling water for 15 to 20 minutes until soft.

½ red cabbage

1 onion

1 tbsp oil

750 ml water

2 tbsps apple cider vinegar

1 leaf laurel

salt

pepper

1 orange

In the meantime, wash the red cabbage and slice finely or cut into strips with a knife. Cut the onion into rings and sauté in a very large pan or pot with a little oil for 2 minutes. Add the cabbage and let it steam. After 5 minutes, deglaze with water and vinegar and add a bay leaf, cover and cook on medium heat for 20 to 30 minutes until tender. Finally, season with salt, pepper and the juice of an orange.

2 tbsps chives

1 clove garlic

2 tbsps fresh goat cheese

2 tbsps skyr

2 tbsps olive oil

salt

pepper

For the filling, chop the chives, chop the garlic, mix the goat's cream cheese, skyr and olive oil and season with salt and pepper.

160 g wheat flour

2 tbsps starch

2 tbsps butter

Strain the cooked potatoes and knead briefly with wheat flour, starch and melted butter to form a homogeneous dough. Roll out on a floured work surface to a thickness of 0.5 cm and cut out circles. Place an espresso spoon of the filling in the centre and fold into half moons. Boil the dumplings in salted water until they float to the surface.

4 tbsps butter

4 tbsps walnuts (ground)

Parmesan

Melt the butter in another pan and add the ground walnuts and some grated Parmesan.

Arrange the red cabbage on the plate, top with the dumplings and round off with the walnut butter.
Happy cooking and Mahlzeit!